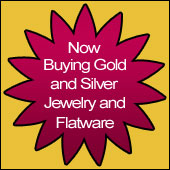 Located at 8801 Patterson Avenue in the west end of Richmond Virginia, we have served coin collectors and investors at this location for over two decades. Owner Luke Perrotti is a member of PNG, BBB, ANA, PGCS, and NGC. Luke is the only active Professional Numismatists Guild member in the greater Richmond area. We offer a wide selection of gold, silver, and platinum bullion products as well as graded and ungraded coins and currency. In addition, we provide appraisals and a complete selection of coin and currency supplies. Our selection of coins include both US and World coins and our currency includes US, Confederate, and Obsolete items.
Our most popular bullion items include American Eagles, Canadian Maple Leafs, and African Kruggerands. We also carry a selection of silver bars and rounds. Visit our showroom or call us today for current prices and availability.
BULLION
Our most popular gold products are listed above.
Visit our Bullion page for more items, call for current prices and availability.
CURRENT SPOT PRICES
METAL
DATE
TIME
BID
ASK
CHANGE
GOLD
11/30/2023
17:01
2035.70
2036.70
-6.90
(-0.34%)
SILVER
11/30/2023
17:01
25.26
25.36
+0.26
(+1.04%)
PLATINUM
11/30/2023
17:01
927.00
937.00
-5.00
(-0.54%)
PALLADIUM
11/30/2023
17:01
988.00
1028.00
-23.00
(-2.27%)
Our coin and currency inventory includes a vast arrray of us and world items including confederate and obsolete currency. Listed below is a sample of our current inventory.
FEATURED COIN AND CURRENCY INVENTORY
WE ARE CURRENTLY DEVELOPING OUR ON LINE INVENTORY SYSTEM TO ALLOW YOU TO PURCHASE COINS AND CURRENCY LIVE REAL TIME FROM OUR WEB SITE. UNTIL THEN PLEASE FEEL FREE TO
CONTACT US
TO DISCUSS BUYING OR SELLING COINS, CURRENCY, OR BULLION
Please take a few moments to view our on line inventory of coins and currency. We have items listed here that are not available in our showroom. Read our
ordering information
page for tips on purchasing coins, currency, and bullion from our web site. If you have any question, comments, or feedback please
contact us
. We normally respond to all email within one business day.
Feel free to call us at 804-740-6481 or stop in for a visit. Remember that coins, currency, and bullion make great gifts for any occasion. Our inventory changes frequently and we get new items in almost every day, so check in often.