On March 26, 2015, Governor McAuliffe signed a bill into law that provides a sales and use tax exemption that includes gold, silver, and platinum purchases whose total exceeds $1,000. This law created a huge investment opportunity for people wishing to invest in bullion. It means that your investment dollars go 100% toward the purchase of bullion for your portfolio with zero tax liability at purchase. There has never been a better time to begin investing in bullion or to grow your current portfolio. The law is currently in effect but it is set to expire January 1, 2019. Do not delay, this is an investment opportunity that you do not want to miss!
To purchase bullion please contact us on line or call us during normal business hours. Let us know what items you want to buy and in what quantities. A sales executive from Capital City Coins & Currency will contact you to confirm the current price, arrange for payment, and complete your order. You may also contact us by phone during normal business hours with any other questions you may have.
Phone: 804-740-6481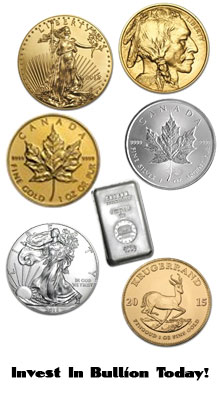 We buy and sell bullion based on the current spot prices. These prices are volitile and can change rapidly. While the bid and ask prices listed to the right are accurate as of their last update, they can only be used as a guideline as to the current spot prices. To get an up to the minute quote on bullion prices please call us at 804-740-6481 during normal business hours.
Hours
Monday
10:00am - 4:00pm
Tuesday
10:00am - 4:00pm
Wednesday
10:00am - 4:00pm
Thursday
10:00am - 4:00pm
Friday
10:00am - 4:00pm
Saturday
Closed
Sunday
Closed